Goose that lays the golden eggs

This site present information about the historic theme parks
proposed for Petersburg, Virginia.
This website introduces Operation Bootstrap
It is an economy development plan that calls for us to do what we can with what we have and do it now.
It proposes developing our many historic resources into a complex of historic theme parks.
The plan is designed to maximize potential while minimizing risk.
This is accomplished through constructing the parks in four phases.
Operation Bootstrap shows how the parks can be built at no cost to Petersburg residents.
When complete, the parks will provide the city with over $30,000,000 a year in income.
They will create over 500 new jobs, revitalize the retail economy and foster new industries.
This should be a community project and the documents listed below provide all the details.
But start off with the Introduction, as it provides a comprehensive overview.
---
THIS IS A CONTINUALLY EVOLVING PROJECT
Check back here for updates to the various reports.
---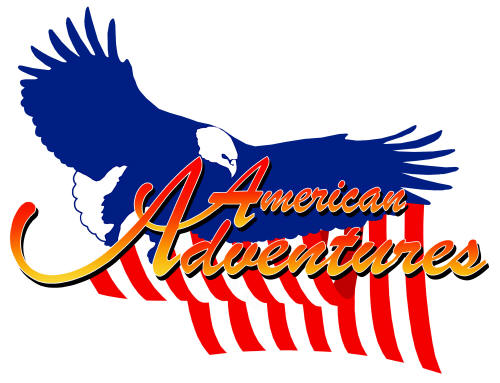 Petersburg's history is not only our local history, it is a microcosm of our nation's history.
Because of this the parks have been renamed "American Adventure."
For full details, see the below report.
---
Our Assets
Petersburg has three outstanding assets
1. The longest, most diverse and colorful history of any city in the United States. See below report.
2. Outstanding location - Located directly on Interstate 95 - the main interstate traffic corridor on the east coast.
Warm Mid-Atlantic weather permits year around operation of attractions.
3. Land. The city owns 149 acres of land. That's only 11 acres smaller than Disneyland, California.
It entertained 18 million guests in 2010. The land is shown on the plat below.
Highlights of Petersburg History
2012 Plat of Pocahontas Island and others areas to be used for the parks.
---
Introduction to Operation Bootstrap
Draft 225. July 2, 2012
READ ME FIRST - as it puts the other reports in proper perspective.
Please share this information with your firiends..
---
Appomattox River Development Plan
NEWLY RELEASED REPORT. Draft 117. June 22, 2012
Dredging will not place in the foreseeable future.
Calls for converting the former harbor into a scenic lake
Landscaping and other development are discussed in the above document...
Rethinking Petersburg Harbor - a summary of the above
U.S. Army Corps of Engineers - Plat of Property
U.S. Army Corps of Engineers - 2002 Environmental Study
---
American Adventures Site Plan
Draft 305. June 12, 2012
Conceptual plan made from satellite photos. Graphic elements show locations of everything
Very Brief Summary of American Adventure
Draft 109. June 25, 2012
This appears on the reverse side of the printed site plan.
---
Phase I Variation
Phase I Variation - Description
Site Plan 306B
Reconstruction and Renovation of Southside Station
Battle of Petersburg - theme park ideas
---
Operation Bootstrap
Comprehensive Introduction to project and detailed information about each of the parks.
This is the first draft released in September 2011. Many changes since then,
but some subjects discussed in great deal..
---
Operation Bootstrap - Update 1
Corrects errors and omissions in the above. AAdds new material
---
The Impact of the American Adventures Historic Theme Park
on the Residents of Pocahontas
---
Petersburg Parks Staff Requirements
Introductory Text - Excel Spreadsheet
---
Penetrating Petersburg
Getting Visitors up the Sycamore Street Hill
---
Fostering Economic Revitalization
How to take maximum advantage of increased visitor traffic
---
Operation Bootstrap - Financial Consideration.
Introduction (text) Needs to be updated
Spreadsheet: Excel format. PDF format.
---
Implementation
Ways that the dream can become a reality
---
PETERSBURG RAILROAD HISTORY
The Antebellum Railroads of Petersburg, Virginia (book)
This book provides a comprehensive overview of the city's railroads.
---
The Antebellum Railroads of Petersburg, Virginia (poster)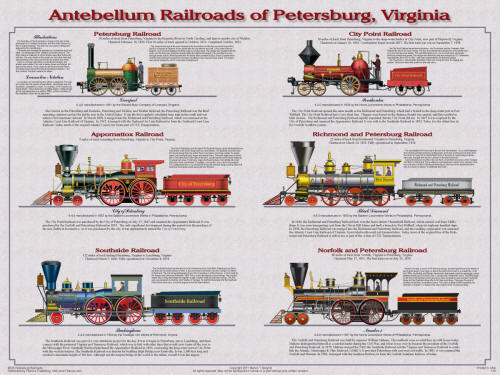 Printed copies of this magnificent 18" x 24" full color poster
may be obtained from the Siege Museum and the main library on Sycamore Street
---
The Antebellum Railroads of Petersburg, Virginia (poster book)
Shows representative locomotives and tender from each of the city's six railroads.
This format permits easy web viewing.
---
Contact Us
Ideas, suggestions and comments invited. Contact Project Author Marv Broyhill
Marv@Feenixx.com | (804) 732-6691
Copyright 2012 Marvin Broyhill. All rights reserved. parks td40